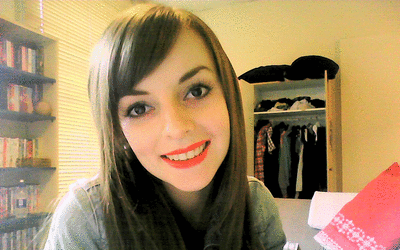 Hey sweeties! How are you all? Good I hope! Today I'm going to review one of my favourite lipsticks, which I wore yesterday which is Rimmel London's Lipstick in shade 22, from the Kate Moss collection.
I'd had a red lipstick from Rimmel before and hadn't thought much of it, but thought I'd give the Kate collection a go, and am pleasantly surprised. As you can see from the pictures it has quite an orange undertone, which I love 'cause I usually go for coral or pink lipsticks rather than red, but every girl should have a statement red lipstick right?
The pictures above make it look a little lighter/orange than it actually is so I've taken some photos to show you how stunning the red colour is..
The lipstick itself has a thick consistency which gives incredible colour from the first coat. It's a really intense classic Kate Moss colour, definitely the shade to wear if you want to stand out. I'd wear it on both day and night, toning it down with a coat of lipbalm for shopping and piling the colour on for clubbing. It lasts ages too, and random but it smells amazing! I usually hate that stereotypical lipstick smell but I get a hint of watermelon from this, lovely, and at only £5.49 it's not going to break the bank, definitely recommend!
My fave lippy is also from this collection so I'll be reviewing that soon.
Have any of you tried this colour? What did you think? x